(CNN) -- For some it's Paris, for others Rome.
For others it gets no more exotic than the local Indian restaurant.
But where would you like to spend your honeymoon?
Or where did you spend it?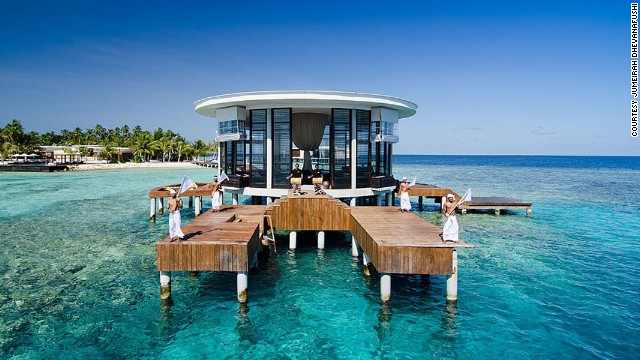 If there were a pictographic encyclopedia of the world, this is what you'd see under the "dream honeymoon" entry -- a villa in the middle of Maldives' crystal clear water. Things could get even more spectacular, if this
underwater, space-age hotel
ever gets built.
A recent survey from booking site Agoda.com revealed that 20% of 15,000 customers from around the world picked the Maldives as their "dream honeymoon location."
The survey was limited to 20 pre-selected locations, mixing cities, countries and other locales, and interviewees couldn't add their own.
We want to widen the choice to anywhere in the world and ask: where would you go for a once-in-a-lifetime, post-wedding holiday with your partner?
Top honeymoon destinations according to Agoda.com
Maldives -- 20.3%
Greek Islands -- 7.8%
Paris -- 7.6%
Bali -- 7.1%
Hawaii -- 6.6%
Italy -- 6.5%
Caribbean Islands -- 5.7%
Tahiti -- 5.6%
New Zealand -- 5.2%
Istanbul -- 3.8%
Phuket -- 3.5%
Australia -- 3.4%
Prague -- 2.8%
Las Vegas -- 2.7%
New York -- 2.5%
Spain -- 2.5%
Cancun -- 2.4%
Rio de Janeiro -- 2.2%
Croatia -- 1.0%
Montreal -- 0.9%
Source: http://edition.cnn.com/2014/02/14/travel/honeymoon-destinations/index.html?iref=allsearch